Our Faculty of Medicine established in 1960, having a history of more than 60 years. We aim to cultivate physicians and senior researchers with both basic theory and clinical experience. Students have 6 years of study including learning mandatory subjects, basic and clinical medicine subjects, and attending clinical apprenticeships.
In recent years, with the changes of the entire environment on both the medical system- health insurance implantation, and value of service. Students are taught to respect for life, strengthen medical ethics and humanities; diverse elective courses were designed based on their willingness and interest in learning. Students are also encouraged to participate in summer or winter research program, and to seek opportunities to put theories into practice in order to become holistic clinicians, clinical research physicians or scholars.
Basic medicine courses are conducted in the classrooms or laboratories while clinical teaching is delivered in the classrooms or hospitals. All basic medical laboratories have standard equipment, and classrooms and labs are equipped with full-pledged teaching facilities. All full-time teachers have research programs.
Our educational goals are to cultivate medical personnel with humanistic literacy, social care, diverse learning, professional skills, communication skills, teamwork, information management, international horizons, speculative innovation and pursuit of truth. Furthermore, train students of ethical judgment, society serving, medical knowledge, clinical skills, data analysis, international cooperation, good communication, leadership, interdisciplinary ability, and research innovation.
Graduates from our faculty can become physicians in public or private medical institutions, administrative directors in health agencies, or basic medical researchers. At present, we are committed to building large research teams consisted of related professors in basic or clinical fields; for example, a reproductive medicine research center, and work towards the goal of a world-class medical university.
The educational goal of the School of Medicine is to achieve fostering medical professionals with humanistic literacy and social concern. We will continue to pursue further development in the terms of teaching, curriculum, learning and educational resources.
(1) In terms of teaching,
we will continue recruiting prominent basic and clinical teachers on medicine. On one hand, we reward teachers with excellent teaching and research achievement; on the other hand, we set up courses in the Center for Teaching and Learning Development for the ones who need improvement in teaching or research skills. Regulations of Faculty Promotion can be divided into teaching and research channels to diversified the career development pathway. In cooperation with teaching resource centers, we encourage teachers to deliver courses with new teaching methods to stimulate students' learning interest and autonomous learning skills.
(2) In terms of curriculum,
the curriculum committee will review the curriculum planning and adjust it to meet the educational goals and core competencies of the school of Medicine. All required courses in the faculty will be evaluated by the students and committee. To improve the quality of teaching and learning, students and teachers will be invited to communicate on ways to improve the course. Continuously update the lessons of problem-based learning and clinical-based learning; increase humanities learning activities and community service to cultivate students with humanistic literacy and enthusiasm on service.
(3) In terms of learning,
the admissions committee diversifies admissions channels to recruit outstanding domestic and foreign students; establish student learning portfolio, and work with their mentor on keeping tract on student's school life adaptation and learning situation. Counseling process are always important to help those in need. We increase the quota and amount of subsidy for the scholarship, assist students to pass the two-stage doctor license exam and provide employment counseling.
(4) In terms of educational resources,
we expand financial sources from government subsidies, endowment funds and educational institution support etc., and cooperate with the Department of Finance for effective financial management. Also, we improve the sanitary quality and safety in academic and clinical environment, provide a conducive environment that is well-equipped, develop library collection to meet the information needs of the students and teachers to achieve a better learning.
In summary, the future of the School of Medicine is to build a safe, friendly, autonomous and caring environment, so that teachers and students can learn and develop happily.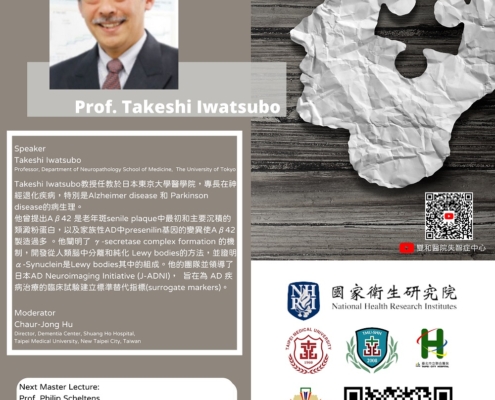 https://medicine-en.tmu.edu.tw/wp-content/uploads/2022/03/20220401.jpg
1473
1000
imchieh
https://medicine-en.tmu.edu.tw/wp-content/uploads/2021/09/TMU_CoM_Logo.png
imchieh
2022-03-31 11:10:31
2022-03-31 11:11:06
2022.04.01(W5) 12:30-13:30 ​​- Frontiers in Dementia Research- Master Lectures