XI Imaging Summit 2021 International Imaging Summit and International Symposium on Artificial Intelligence in Medical Imaging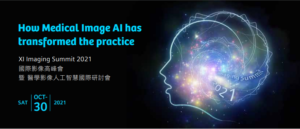 The 11th International Imaging Summit will be held at Taipei Medical University on October 30, 2021. The theme of this year's conference is "How medical image AI has transformed the practice".
Nowadays, the topic of artificial intelligence medical imaging is not how to replace radiologists three years ago, but how radiologists embrace artificial intelligence in order to improve work efficiency and meet precision requirements.
The summit will be broadcast live and online. Everyone is welcome to register for the physical venue (limited to 25 people) to facilitate interaction and exchanges with the lecturers on-site, and please be sure to be there.
Date: Saturday, October 30, 2021 09:30 ~ 17:00
Venue: Chengpu Hall, 4th Floor, Front Building, Medical Complex, Taipei Medical University
Entity registration website: http://event.tmu.edu.tw/actnews/?Sn=4240
Deadline for registration: Thursday, October 21, 2021
Online live link: https://www.youtube.com/watch?v=3HosLuYn8V8
https://medicine-en.tmu.edu.tw/wp-content/uploads/2021/08/2021-國際影像高峰會暨醫學影像人工智慧國際研討會.png
341
791
imchieh
https://medicine-en.tmu.edu.tw/wp-content/uploads/2021/09/TMU_CoM_Logo.png
imchieh
2021-09-02 10:29:33
2021-09-02 10:29:33
XI Imaging Summit 2021 How Medical Image AI has transformed the practice