TAIWAN – A sold-out crowd filled the Taipei Medical University auditorium to hear about the latest innovations in the world of sleep medicine and telehealth technology.
The 2019 TMU-UPenn Joint Symposium of TeleHealth in Sleep Medicine presented by Research Center of Sleep Medicine, College of Medicine, Taipei Medical University and the University of Pennsylvania attracted more than 200 attendees – including representatives from 11 of the 14 medical centers in northern Taiwan – to listen to presentations by several experts in the field of sleep medicine.
Included among the symposium's many presenters were Dr. Wen-Te Liu, Chair of Sleep Center of TMU-Shuang-He hospital and Dr. Jorge Mora, Associate Professor of Clinical Medicine at UPenn who specializes in innovative treatments for sleep disorders, Elizabeth Kneeland, Associate Director of the Innovation Program for Sleep Medicine at UPenn, and Rex Cherng, the Chief Operating Officer of TelePlus, an innovative company devoting to telemedicine healthcare models of chronic illness including sleep disorders. The keynote speech was provided remotely by Dr. Allan Pack from UPenn, who is one of world-renowned experts in sleep medicine.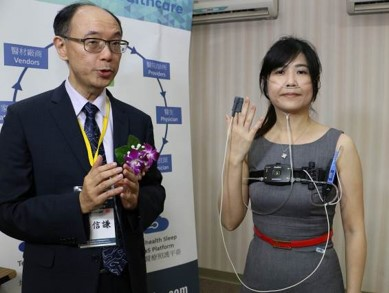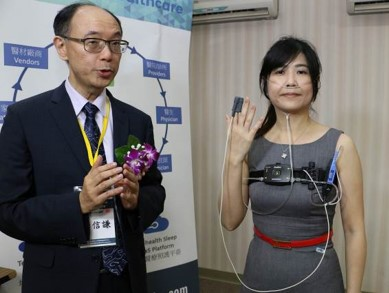 (Left) Dr. Hsin-Chien Lee, Chair of Research Center of Sleep Medicine
"Telehealth might help to resolve the unmet needs for sleep medicine" said Dr. Hsin-Chien Lee, Chair of this symposium and TMU's Research Center of Sleep Medicine. In recent years, TMU has actively studied the value of innovation and research with the integration of Taiwan's quality medical technology within the international community. In order to implement the sleep AI project granted by the Ministry of Science and Technology, TMU cooperates with UPenn's Sleep and Innovation Centers, to share experiences of leading sleep education and training with the integration of telemedicine of sleep medicine.
Although the symposium took place on a very hot Sunday during the summer, the number of attendees proved that telehealth in sleep medicine is a timely and attractive innovation.
Among the symposium attendees were Dr. Chien-Huang Lin, President of Taipei Medical University, Dr. Jui-Yuan Hsueh, Taiwan's Deputy Minister of Health and Welfare, and Dr. Dar-Bin Shieh, Taiwan's Deputy Minister of Science and Technology, along with many general practice doctors and physicians.
The success of this symposium encourages TMU's sleep research team devoting more efforts to improve patients' sleep care through advance screening, treatment and management in the future.

https://medicine-en.tmu.edu.tw/wp-content/uploads/2022/03/李信謙news.png
293
389
imchieh
https://medicine-en.tmu.edu.tw/wp-content/uploads/2021/09/TMU_CoM_Logo.png
imchieh
2019-09-15 09:36:55
2022-03-30 09:43:06
[ISSUE CoM] Telehealth might help to resolve the unmet needs for sleep medicine