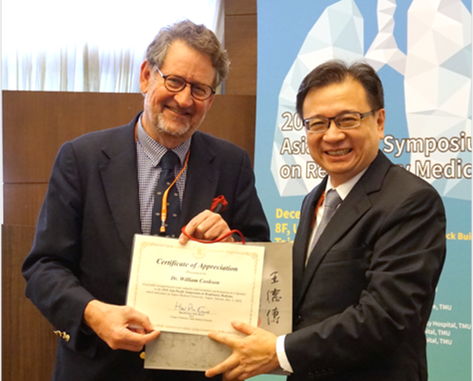 Following successful organization of Asia-Pacific regional forum on Respiratory Medicine in the past 2 years, TMU Research Center for Thoracic Medicine extended its international academic communication to Europe and held the 2018 symposium on Dec 1, 2018. Three professors from Imperial College London, UK, were invited to give talks on airways diseases. Scholars from TMU also shared their impressive works on thoracic medicine.
Professor William Cookson, head of Respiratory Science of Imperial College London, provided his opinion about microbiota in chronic lung diseases. His group was the first to use DNA sequencing to show that the airways contain a characteristic microbiota that when disturbed causes great impact in patients with asthma and COPD. Professor Fan Kien Chung is leading the Europe-wide project on different types of asthma, the U-BIOPRED project.
This is the largest project to date, which has made a great leap to understand the phenotypes and potential therapy for severe asthma. Importantly, his group has identified a novel IL-6 phenotype of asthma. Professor Kazuhiro Ito, being known internationally for his theory of HDAC2 dysfunction in COPD, shared his experience in transforming academic achievement into industry innovation. He reviewed current trend of pharmaceutical drug development in respiratory medicine, and focused on novel inhaled medicines. Dr. Jing-Yun Chen, Prof. Sheng-Ming Wu, and Prof. Chih-Ming Wong from TMU reported their research on ADAM17 in lung fibrosis, ITIH4 in PM-related COPD, and the sentinel role of epithelium in severe asthma.
The symposium was successful and fruitful. TMU and the three invited speakers from the UK had also gained agreement with each other to have tighter collaboration between TMU and Imperial College in the future. Both sides are planning to exchange schemes and collaborating projects of common interests, such as microbiota and air pollution in chronic airway diseases. TMU Research Center for Thoracic Medicine is also planning to expand the forum in 2019 to integrate more experts from the Asia-Pacific area and Europe, including Japan, Korea, Hong Kong, and the UK.
https://medicine-en.tmu.edu.tw/wp-content/uploads/2022/03/EmbeddedImage.png
381
473
imchieh
https://medicine-en.tmu.edu.tw/wp-content/uploads/2021/09/TMU_CoM_Logo.png
imchieh
2018-12-15 10:05:14
2022-03-30 10:11:03
[ISSUE CoM] TMU Thoracic Medicine Extends International Academic Communication to Europe