Taipei Medical University research team, led by Professor Chia-Kwung Fan of the Department of Molecular Parasitology and Tropical Diseases, visited the Kingdom of Eswatini, a diplomatic ally of Taiwan, between October and December in 2021. During the visit, the team successfully carried out a parasitic disease investigation and continued to support the bilateral public health cooperation for parasite control and prevention which was initiated 12 years ago.
Professor Chia-Kwung Fan has for many years been a key supporter of public health diplomacy, leading the collaboration with Mbabane Government Hospital, Malaria Center and the Parasite Prevention Center to monitor various parasitic diseases in Eswatini, such as intestinal parasites, malaria and schistosomiasis by disseminating knowledge and skills required for laboratory work and pest control through tailored training programs. The hope is to bring neglected tropical diseases (NTDs) to an end by 2030 (in line with United Nations' Sustainable Development Goals Target 3.3 on communicable diseases) through cross-national collaboration.
The planned collaboration in research was forced to suspend due to COVID-19 pandemic in 2020, which could lead to the lost momentum in in disease prevention and control and the consequent reappearance of chains of infection. Professor Fan therefore led a team of researchers, consisting of post-doctoral researcher, Chia-Mei Chou, doctoral student of the Department of Public Health, Hsiao-Ching Kuo, and doctoral student of the Graduate Institute of Medical Sciences, Yun-Hung Tu, to re-initiate the collaborative research project in Eswatini.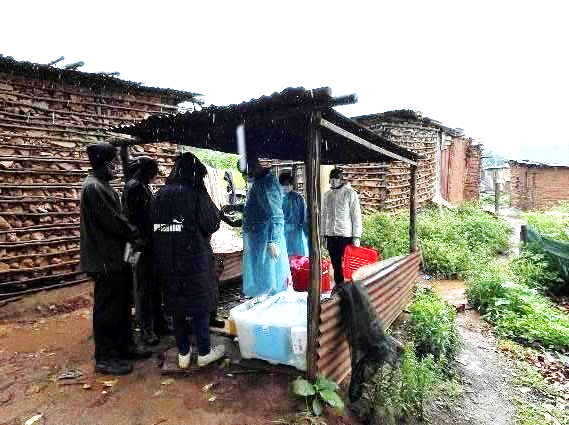 [Photo: TMU researchers discussing the inspection workflow with local community on a rainy day]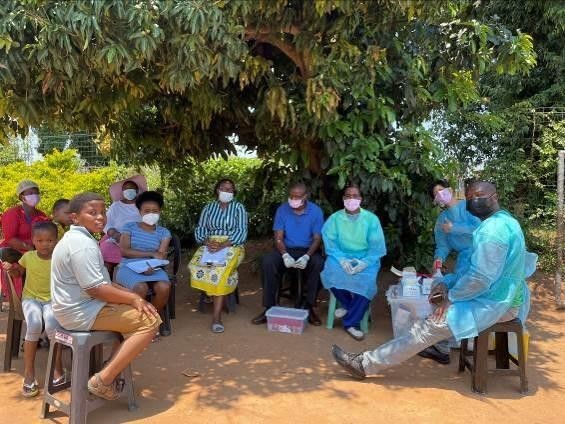 [Photo: Taking an inspection and a questionnaire in a local household]
Reflecting on the task, Professor Fan indicated that the project was awash with unknown and possibly severe challenges. In addition to the preparation of protective equipment and vaccines necessary for protection from COVID-19, a large majority of time was spent with the health personnel in Eswatini strategizing the best plan of action to go deep into the community through scenario planning and carrying out itinerary checks for the inspections, blood collection and questionnaires. On top of the monitoring of intestinal parasites, they also targeted provinces with potential pork tapeworm epidemics risks for serum screening.
Yun-Hung Tu found that even with the training and work experience of a professional medical examiner, he finds it challenging working in the field while wearing full PPE and shuttling between local communities to recover blood, urine and feces samples. Meanwhile, Hsiao-Ching Kuo encountered problems during her research when the off-road bus she took broke down and there was power outage in the accommodation area followed by bad weather. The outbreak of the South African variant of Omicron further complicated matters and resulted in the cancellation of the return flight. While in the field members of the TMU research team faced numerous situations that tested their adaptability and communication skills.
Despite a series of challenges, Professor Fan and his team successfully completed the investigation and produced a solid analysis with recommendations for the local authorities and communities to plan for follow-up treatment. Professor Fan believes that long-term bilateral medical and public health collaboration projects serve to benefit a new generation of medical talent in the fields of biomedical research and international collaboration. Taiwan is uniquely placed to offer its strong clinical capabilities in medical and parasite control and public health to contribute to the wellbeing of international communities. Professor Fan hopes that TMU and the Taiwanese government will continue to pay attention to the development of related fields in medicine and continue to support such partnerships between Taiwan and its international friends.
[Photo below: Professor Fan Chia-Kwung (3rd from the right in the back row), Dr. Chia-Mei Chou (2nd from the left in the front row), doctoral candidate Hsiao-Ching Kuo (3rd from the left in the front row), doctoral student Yun-Hung Tu (1st from the left in the front row) from TMU's research team joining the Eswatini capital tribal leadership meeting]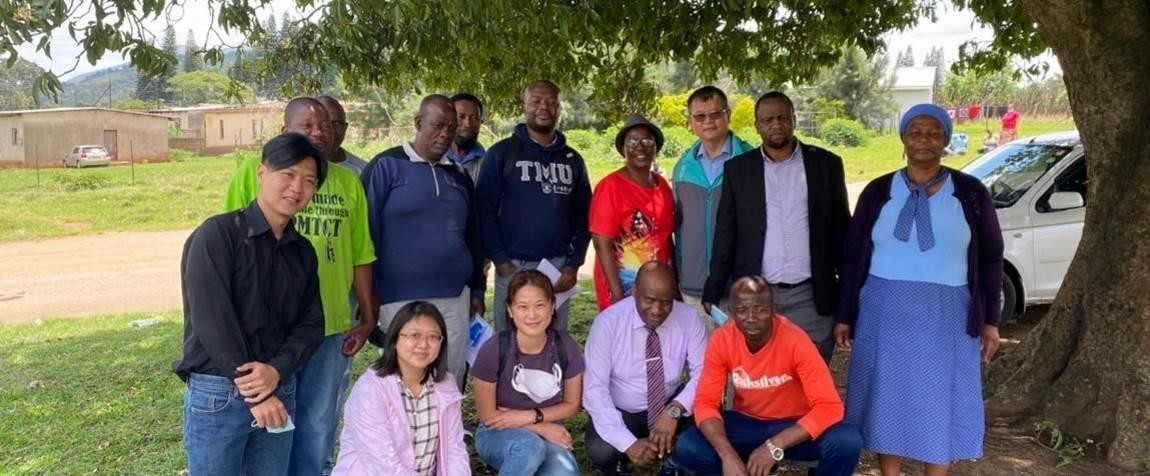 https://medicine-en.tmu.edu.tw/wp-content/uploads/2022/07/pic_issue_0705.2.jpg
424
565
imchieh
https://medicine-en.tmu.edu.tw/wp-content/uploads/2021/09/TMU_CoM_Logo.png
imchieh
2022-07-05 15:44:07
2022-07-05 15:46:07
[ISSUE CoM] TMU parasitology researchers engaged in field investigation of in Africa amid COVID pandemic.